Regular price
Rs. 1,499.00
Regular price
Rs. 3,999.00
Sale price
Rs. 1,499.00
Unit price
per
Sale
Sold out
View full details
Check out the product video
THE BOSS IS HERE
Sound that's as good as it looks

Deskboss offers a wide range of features that allow you to do more while de-cluttering your desk.

Boss-like sound loaded with bass!

Large 57mm hi-fidelity audio drivers, XECH Deskboss delivers punchier bass, wherever its kept!
BOSS MUSIC. EVERYWHERE!
Powerful 10W Speaker

XECH Deskboss generates powerful bass for an immersive audio experience.

TWS Pairing

Double the power. Double the fun. Connect them together for a 360 degree experience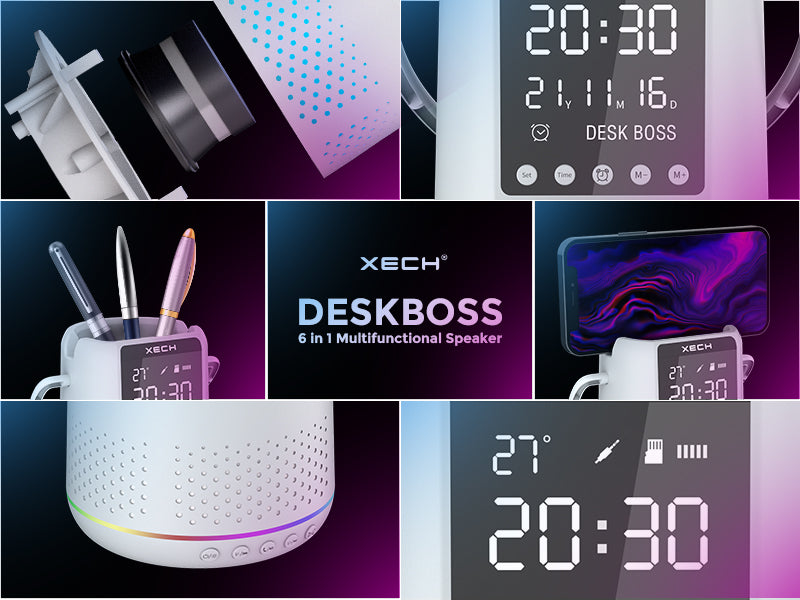 XECH Desk Boss is a multifunctional Bluetooth speaker with a phone holder. It also features a mirror finish digital clock with alarm & ambient temperature. It also has colour-changing RGB lights located at the base of the speaker to keep the good vibes up, always!
DESIGN THAT'S BORN TO LEAD!
Speaker with Phone Holder

A deep groove on top can safely dock your smartphone making it easy to view content & take calls!

Colour Changing RGB Lights

Located at the base are colour-changing RGB lights to ensure your desk is just as vibrant as you are

Play Music from Any Source

Deskboss comes with a wide array of multimedia playback options like USB drive, AUX and TF Card
MASTER MULTIFUNCTIONALITY
Speaker with Enhanced Bass

Unleash powerful sound with Deskboss. Its desktop design, dynamic sound, & versatility make it perfect for home, office, or on-the-go entertainment

Speaker with Phone Holder

A dedicated groove located on top of the device to hold your smartphone to provide the perfect viewing angle to watch your favourite content.

Digital Alarm Clock

Deskboss features a mirror finish Digital LED Clock with Alarm. It is auto calibrated for leap year!

Pen Stand Holder

Deskboss houses a deep cavity that can easily store everyday essentials like pens, pencils, markers
Published across leading publications
Available across leading marketplaces
Frequently Asked Questions
What makes XECH Deskboss different from other speakers?

XECH Deskboss is a 6-in-1 hybrid device that combines essential functionalities like a hi-fidelity wireless speaker, alarm clock, smartphone stand, pen stand, stationery holder, and ambient RGB lights. Its multifunctionality, superior audio quality, and sleek design set it apart from traditional desk accessories.
Can I connect my smartphone to the Deskboss wireless speaker?

Absolutely! Deskboss features a dedicated groove on top that serves as a smartphone dock, providing the perfect viewing angle for your device while enjoying high-quality audio from the wireless speaker.
Is there a user manual available for XECH Deskboss?

Yes, we provide a detailed user manual with each XECH Deskboss. The user manual explains each function of the speaker and provides step-by-step instructions for setup, usage, and customization. It serves as a handy guide to help you make the most of all the features and functionalities of Deskboss.
How is the audio quality of the Deskboss wireless speaker?

The Deskboss wireless speaker is equipped with high-performance 57mm Drivers, delivering superior audio quality with enhanced bass. It ensures a powerful and immersive sound experience for music, conference calls, and other multimedia content.
Can I use Deskboss as an alarm clock?

Yes, Deskboss features a mirror finish LED alarm clock. Its sleek design adds elegance to your desk, and the alarm can be easily set to wake you up with precision. It even has a temperature sensor to keep you updated on the room temperature.
How is XECH Deskboss powered?

XECH Deskboss can be powered using the provided USB C cable, allowing easy connectivity to various devices. It also runs on battery when needed, offering portability and the ability to use the speaker on the go.
Are the RGB lights customizable?

Yes, located at the base of the Deskboss, the color-changing RGB lights can be controlled using the buttons at the base of the speaker. You can personalize the lighting atmosphere to suit your mood and create a vibrant workspace
What warranty does XECH Deskboss come with, and how can I redeem it?

XECH Deskboss comes with a 1-year warranty. In the unlikely event of any manufacturing defects or issues, you can redeem the warranty by contacting our customer support team via email at support@xech.com. Kindly provide them with the necessary details and they will assist you in resolving the issue promptly.
Is Deskboss a suitable gift option?

Absolutely! Deskboss makes a perfect gift for tech-savvy individuals, professionals, or anyone looking for a unique and practical desk accessory. Its innovative features, modern design, and multifunctionality make it a thoughtful and impressive gift choice.
How can I organize my stationery with XECH Deskboss?

XECH Deskboss includes a deep cavity that functions as a pen stand and stationery holder. You can conveniently store your pens, pencils, markers, erasers, and other desktop essentials, keeping your workspace organized and reducing clutter.